Year 437, Day 181 of the sleeping moon




I stood on the steps of Mirith's bank exchanging pleasantries with Varto when a man named Theo approached us. He was an entertainer by profession and boasted about his menagerie on sight. When we revealed we had never heard of his infamous collection, he gasped in disbelief.

Come one! Come all! To Theo's Amazing Menagerie at Andris Bridge!

he exclaimed, his voice echoing across the lands and attracting other Oberinites.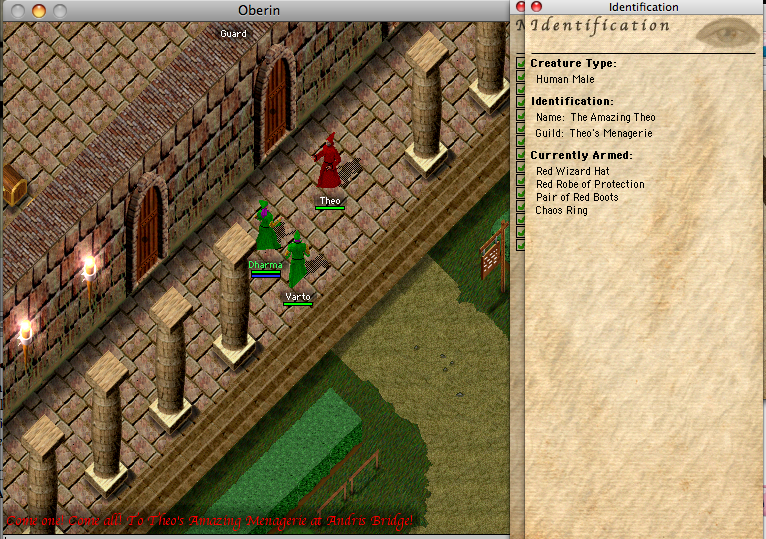 Varto was exhausted; hence his brother, Bertrand accompanied me to the red portal. On arrival, we scurried towards the great bridge of Andris. I could not believe my eyes. An impressive collection indeed! Theo's menagerie spanned the entire bridge and extended into the water. The entertainer had somehow constructed several cages on the bridge; more intriguingly, he had lured various creatures into the cages. The species in the cages included Lions, Lizard men, Black dracos, Maralian Tuskers, Gapers and pixies among a few others. He also prepared an aquarium to the west of the bridge containing several sea serpents and a mated pair of phase serpents. He had been able to gather this army of common and rare breeds with the help of twin maralian druids sisters.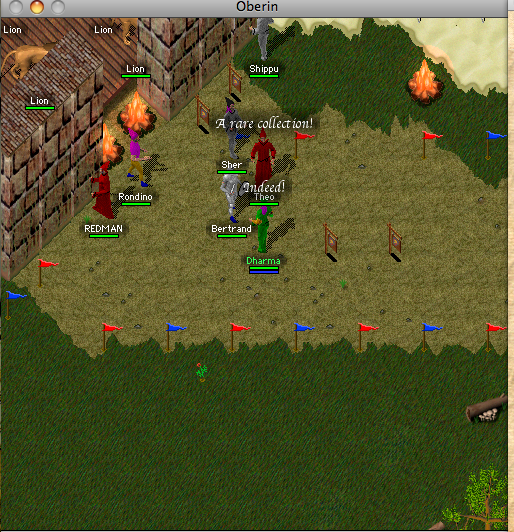 Having attracted more oberinites to his menagerie, Theo proceeded to show us his magnificent collection. He cautioned against feeding the animals and we began our tour in

the cat house

which housed the lions. Upon entry, roaring filled the air and the lions began to attack. Theo tried to calm the beasts to no avail; in response we killed the entire pack of cats. We proceeded to the reptile room containing lizards and dracos and encountered the same thing. In no time, all that remained were corpses of the critters that once occupied the menagerie, including the aquarium.


I was quite horrified at Theo's incompetence and advised him to seek an apprenticeship under a Master druid. As I prepared to return home, Theo beckoned us to an island very close to the bridge. He had also obtained sand dragons and their younglings! The creatures once again attacked us and were eliminated. Right after we killed the dragons, Theo spoke of the prized item of his entire hoard.

I have one more rare magical beast

he announced. A diabolical laughter rang out and we did not need further explanation; The madman captured a lich. What could be worse than the combination of an unskilled common entertainer and a monster with collosal strength and unrivaled magicks? Without hesitation, we hastened to the lich's cage prepared for battle. Theo opened the cage and fighting ensued. After several hours, lich was vanquished; Theo welcomed us to take souvenirs from his gift shop. Mourning the loss of his great menagerie, he set out to begin a new collection and hopefully acquire skills to maintain his new herd!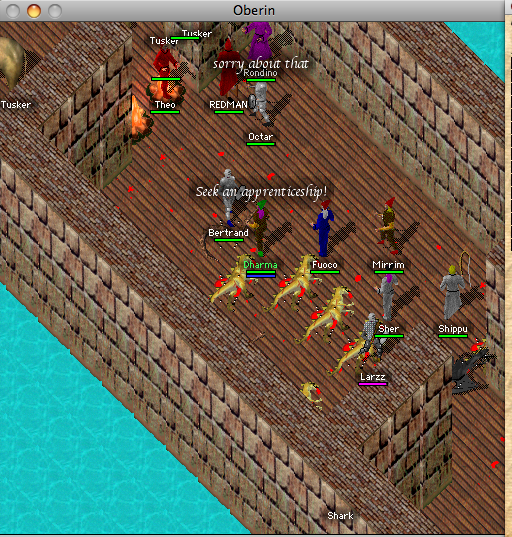 Present at the menagerie were REDMAN, Fuoco, Serancha, Rondino, Larzz, Mirrim, Octar, Sher, Bertrand and Dharma